moi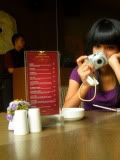 Yosely. Cily. Jo. 郭臻璎。
Full time student. Translator and tutor.
Sarcasm plus cynicism mixed with genuine concern.
LOVE reading.
SHOEaholic.
Addicted to Western TV series.
Introvert AND extrovert at the same time.





wish list
♥ NO REGRET
♥ college again, major in Japanese literature
♥ move out from Medan
♥ a new phone
♥ a new digital camera
♥ great main job + fun side job
♥ certainty ;)
next to read
Wuthering Heights ~ Emily Brontë
The Book of Tomorrow ~ Cecelia Ahern
那个女孩叫 Feeling ~ 藤井树

daily reads
standing ovation to
my other hideouts
days by days
每次呼吸都是痛
Thursday, February 24, 2011 @ 8:09 PM

Spent the whole day listening to Fish Leung's albums in the office. Apparently, my boss is a big fan of hers who memorizes almost all Fish Leung's songs. One of her favourite songs is 会呼吸的痛,not until my boss told me did I realize that the lyrics is truly heart-breaking. My boss told me how she nearly cries everytime she sings this song.

在东京铁塔第一次眺望
看灯火模仿坠落的星光
我终於到达但却更悲伤
一个人完成我们的梦想

你总说时间还很多
你可以等我
以前我不懂得
未必明天就有以后



想念是会呼吸的痛




它活在我身上所有角落




哼你爱的歌会痛




看你的信会痛连沉默也痛





遗憾是会呼吸的痛




它流在血液中来回滚动




后悔不贴心会痛




恨不懂你会痛




想见不能见最痛



没看你脸上张扬过哀伤
那是种多么寂寞的倔强
你拆了城墙让我去流浪
在原地等我把自己捆绑



你没说你也会软弱




需要依赖我


我就装不晓得
自由移动自我地过

想念是会呼吸的痛
它活在我身上所有角落
哼你爱的歌会痛
看你的信会痛连沉默也痛

遗憾是会呼吸的痛
它流在血液中来回滚动
后悔不贴心会痛
恨不懂你会痛
想见不能见最痛

我发誓不再说谎了
多爱你就会抱你多紧的
我的微笑都假了
灵魂像飘浮着你在就好了

我发誓不让你等候
陪你做想做的无论什么


我越来越像贝壳




怕心被人触碰你回来那就好了



能重来那就好了
You, 我已经变成你的贝壳了。