moi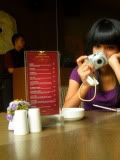 Yosely. Cily. Jo. 郭臻璎。
Full time student. Translator and tutor.
Sarcasm plus cynicism mixed with genuine concern.
LOVE reading.
SHOEaholic.
Addicted to Western TV series.
Introvert AND extrovert at the same time.





wish list
♥ NO REGRET
♥ college again, major in Japanese literature
♥ move out from Medan
♥ a new phone
♥ a new digital camera
♥ great main job + fun side job
♥ certainty ;)
next to read
Wuthering Heights ~ Emily Brontë
The Book of Tomorrow ~ Cecelia Ahern
那个女孩叫 Feeling ~ 藤井树

daily reads
standing ovation to
my other hideouts
days by days
Wednesday Night Out
Wednesday, March 2, 2011 @ 11:47 PM

B: *looking at my flat shoes* I'd rather you wore high heels.
Me: Why?
B: It's funny how you walk so elegantly when you wear high heels. And how you try to walk fast enough to catch up with us.

S: Why are you not wearing skirt as usual?
Me: I wanna sit comfortably in the cinema.
S: Good. I dislike it when you're being too girly. Shorts and flat shoes make you less womanly.

Oh, how I am gonna miss them IF they really move out from Medan.