moi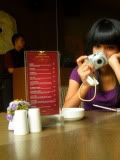 Yosely. Cily. Jo. 郭臻璎。
Full time student. Translator and tutor.
Sarcasm plus cynicism mixed with genuine concern.
LOVE reading.
SHOEaholic.
Addicted to Western TV series.
Introvert AND extrovert at the same time.





wish list
♥ NO REGRET
♥ college again, major in Japanese literature
♥ move out from Medan
♥ a new phone
♥ a new digital camera
♥ great main job + fun side job
♥ certainty ;)
next to read
Wuthering Heights ~ Emily Brontë
The Book of Tomorrow ~ Cecelia Ahern
那个女孩叫 Feeling ~ 藤井树

daily reads
standing ovation to
my other hideouts
days by days
Breathing Pain
Wednesday, July 6, 2011 @ 9:47 PM

I wish there was an exact term or word in English to describe what I'm feeling now. It's like I was ruined but the damage made me whole. Or that somebody disappointed me but I'm satisfied instead. Oxymoron yes?

Up until this moment, I have no doubt that it was a moment of losing control. But then if we really give it a second thought, that is not the sort of thing people might have accidentally done. I guess I want to believe that we might have planned it unconsciously, or it was an arrangement that neither of us expected to come true. Or we didn't mean to go to that extent.

One is always accused of taking things too seriously when it's supposed to be pure fun. In one's defense, fun wouldn't have lasted this long, would it?

Hhhh.

I like it like it was. Go back, please?