moi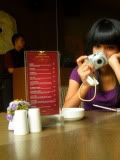 Yosely. Cily. Jo. 郭臻璎。
Full time student. Translator and tutor.
Sarcasm plus cynicism mixed with genuine concern.
LOVE reading.
SHOEaholic.
Addicted to Western TV series.
Introvert AND extrovert at the same time.





wish list
♥ NO REGRET
♥ college again, major in Japanese literature
♥ move out from Medan
♥ a new phone
♥ a new digital camera
♥ great main job + fun side job
♥ certainty ;)
next to read
Wuthering Heights ~ Emily Brontë
The Book of Tomorrow ~ Cecelia Ahern
那个女孩叫 Feeling ~ 藤井树

daily reads
standing ovation to
my other hideouts
days by days
Lighters of Day
Thursday, July 14, 2011 @ 9:33 PM

1. Random bbm chat with Vianly. Free lunch at Babura this Saturday!! Yaayyness! Nyumsness!
2. Nd sent me this photo through bbm. Can't wait till I've got time to get the files from him. Me want to enlarge the photo at least 24"!!
Photographer:
Andy Susanto
3. Re-watched Bao Bei (Baby Chinese version) by Jason Chen and couldn't stop smiling. His mischievous smile totally wins!! Not to mention his cute facial expressions.
4. This video is just ohmyohmysoawesomeicantstandit!! Joseph Vincent alone sure kills already. Put him together with Jason Chen in one screen, it's like mass murder. Who can resist these two cutie pies???