moi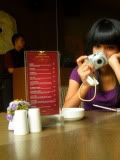 Yosely. Cily. Jo. 郭臻璎。
Full time student. Translator and tutor.
Sarcasm plus cynicism mixed with genuine concern.
LOVE reading.
SHOEaholic.
Addicted to Western TV series.
Introvert AND extrovert at the same time.





wish list
♥ NO REGRET
♥ college again, major in Japanese literature
♥ move out from Medan
♥ a new phone
♥ a new digital camera
♥ great main job + fun side job
♥ certainty ;)
next to read
Wuthering Heights ~ Emily Brontë
The Book of Tomorrow ~ Cecelia Ahern
那个女孩叫 Feeling ~ 藤井树

daily reads
standing ovation to
my other hideouts
days by days
Random Thoughts of the Day
Thursday, September 1, 2011 @ 4:53 PM

1. Which one is better: having eff-ed relationship but everybody sees the chemistry between you OR being in a secretive relationship that nobody knows you're his/hers.

2. Mosquitoes exist as lizards' food. Now, tell me why do cockroaches exist?

3. Why is it when you decide not to be in touch so often, the universe makes you look for him/her?

4. Why is my English so messed up nowadays?

5. A certain friend changed after being in a relationship. (S)he is not fun anymore. Not to mention (s)he underestimates friends who are still single. Why so? What's so great about seeing somebody? I was dating J for almost 4 years, and the relationship didn't change any bit of us.

6. When will I quit being a loner? *facepalm*

7. What differs "break up" and "dump"? Both involve two broken hearts, right? Why does "break up" sound more humanly?