moi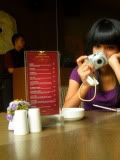 Yosely. Cily. Jo. 郭臻璎。
Full time student. Translator and tutor.
Sarcasm plus cynicism mixed with genuine concern.
LOVE reading.
SHOEaholic.
Addicted to Western TV series.
Introvert AND extrovert at the same time.





wish list
♥ NO REGRET
♥ college again, major in Japanese literature
♥ move out from Medan
♥ a new phone
♥ a new digital camera
♥ great main job + fun side job
♥ certainty ;)
next to read
Wuthering Heights ~ Emily Brontë
The Book of Tomorrow ~ Cecelia Ahern
那个女孩叫 Feeling ~ 藤井树

daily reads
standing ovation to
my other hideouts
days by days
After the Test Has Gone
For the very first time since I moved here, I've got the chance to
nua
! Fufufu~~ My mid test was pretty okay, I hope I could pass with flying colours. *pray*
Anyway, Agus' friend came to Bandung last weekend. Agus asked if his friend could crash at my place for some days, which is absolutely okay with me. He forgot to mention that his friend is Korean. =.=" Kim So Young speaks fluent Japanese and English, so we had no difficulties in communicating. She is a wonderful and super brave woman! She has been backpacking for three months and still counting. Her target is one year. Omoo! I can't imagine if I have to travel to places where I can't understand the language.
Pictures!!

PS: I know I look neck-less in the last photo. =.="