moi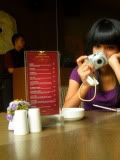 Yosely. Cily. Jo. 郭臻璎。
Full time student. Translator and tutor.
Sarcasm plus cynicism mixed with genuine concern.
LOVE reading.
SHOEaholic.
Addicted to Western TV series.
Introvert AND extrovert at the same time.





wish list
♥ NO REGRET
♥ college again, major in Japanese literature
♥ move out from Medan
♥ a new phone
♥ a new digital camera
♥ great main job + fun side job
♥ certainty ;)
next to read
Wuthering Heights ~ Emily Brontë
The Book of Tomorrow ~ Cecelia Ahern
那个女孩叫 Feeling ~ 藤井树

daily reads
standing ovation to
my other hideouts
days by days
Reset
Saturday, February 11, 2012 @ 2:31 PM

I used to have huge crush on Edison Chen and up until now I still go
siao
whenever I see him. >.<"
Her reaction was a bit 夸张 but yeah it's so not me to join an event full of strangers. =)) But it's worth a try, yes?
It's been a full week since my comeback to Bandung. The mixed feelings are a bit hard to be described. A little piece of this and that, I guess. Homework is slowly piling up. Upcoming quizzes are ready to rock my days. Haish.

It gets more unbearable every single time I think about my hometown. Mom used to be pretty supportive of my decision to come here until I broke the news that I'm not planning to settle down in Medan. :'( Her expression and our last conversation before I headed to the airport pinch my heart whenever I recall it. J hasn't been a help either, he keeps worrying about my food intake and my sanity. I hate it when I make people worry especially when I'm not on walking (or car) distance.

Gah. I need to get a real grip on myself and stop whining.